One of the key drivers in any successful business partnership is trust. Difficult to build, yet easy to destroy, trust builds the foundation for a strong partnership that can last for a very long time. Before any relationship can work, both parties need to be straightforward and honest with each other about what they hope to achieve in their venture. Taking the time to develop a positive relationship with each other before committing increases confidence and goes a long way. Even if the partnership didn't work out in the way everyone hoped it would, having an established relationship beforehand can see both partners walk away without feelings of hostility. As we can see with Suzuki and Volkswagen, this is not always the case.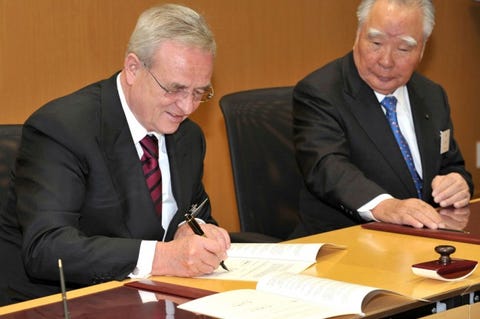 Back in 2009, Suzuki and Volkswagen entered into a long term strategic partnership to explore opportunities for environmentally friendly cars. To further their relationship Volkswagen purchased 19.9% of Suzuki's shares in a deal that amounted to approx. USD$2.3 billion. The partnership will also give Volkswagen a stronger presence in emerging markets like India and give Suzuki access to technology it could not develop on its own. Their partnership wouldn't last long as, in less than 2 years, the relationship between both automakers begin to deteriorate. Both companies had succumbed to infighting accusing each other of reluctance to cooperate and share resources. All the while, Suzuki had become increasingly suspicious and paranoid of Volkswagen's intentions and feared a power grab leading to a complete breakdown in trust and communication.
This breakdown led Suzuki to file for arbitration with the International Chamber of Commerce's International Court of Arbitration in London in 2011. Four years later, the court would settle the dispute by asking Volkswagen to sell its 19.9% stake (now valued around $3.9 billion) back to Suzuki and the partnership is officially dissolved. Some may argue that the partnership was doomed from the beginning and have pointed out the lack of communication between the CEOs of both companies during their partnership announcement conference that there is trouble behind the scenes. The different expectations that both companies have may have been another factor. As Suzuki insists on maintaining its independence, Volkswagen may have felt that they get a say in the company due to its investment. This would have given Suzuki the impression that Volkswagen had ulterior motives.
It is sometimes necessary to create cross-cultural partnerships with firms outside of the country to remain competitive and open up new markets. Entering into a cross-cultural partnership, however, is a challenging task. Language barriers and different cultural norms make communication difficult and may give each partner the wrong idea of what to expect from the other in the partnership which leads to misunderstandings and conflicts. Developing a thorough understanding of each other before committing to a partnership is often a good strategy. This includes knowledge of the business practices of the partner firm and how much they are willing to share. Knowing these allows the company to have a clearer idea of the partnership they are getting into and make a more informed decision.